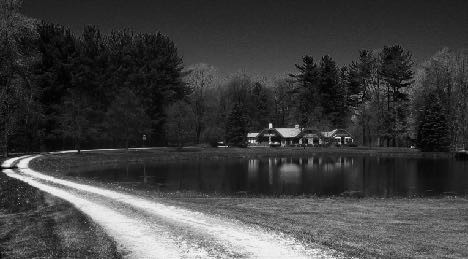 I hadn't been there in decades and planned to speak
to the people who lived in it now.
A neighbor said it was vacant, sale pending.
A peaceful home full of the past,
set back from the road several hundred feet behind a serene lake.
I drove in beyond the tall trees, ones I helped plant as tiny seedlings, parked,
and walked around the outside.
My window was unlocked, close to the ground.
I climbed in.
Inside, memories crowded around me.
Long ago, seated comfortably on a deep, red, sectional sofa
in front of a window, as an only child,
I read about a world in magazines and books,
shocked and delighted by photographs as I eagerly
absorbed places and people far away who often
had little children like me,
but with different clothes, parents, and homes.
Later, I read literature of other cultures and my own,
discovering more about a world outside my sheltered one,
researched the natural world and read biographies
of people from the past.
The room seems different now,
the four large windows in the room shuttered,
darkening light-filled rooms.
I felt no nostalgia, only sadness,
for a child lost in imagination, aware of my real life,
the one outside of books.
No longer looking from the outside through what I read,
but living it now.I exited through my bedroom window,
leaving my lonely, isolated, childhood behind.
Author's Note: This poem and photograph evoke how I felt going back to my childhood home. The long curving drive to the house reflected in the lake led me back in time into the far past, present only in my memories. The serenity beckons, yet my trepidation shows in the black and white image. The text recounts my memories from the past.