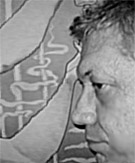 RW Spryszak is Editor-at-Large at Thrice Publishing and managing editor of Thrice Fiction, both of which are based out of the Chicago area. Thrice Fiction is published three times a year, and Thrice also publishes up to two novels a year. He has been published in Slipstream, The Lost and Found Times, Peculiar Mormyrid, and a host of other alternative magazines since the 1980s. He was editor of The Fiction Review in 1990-1991.
Please describe your website/social media:
I am trying to adapt my old-school notions to the modern era. The magazine website offers free copies for every issue (or you can buy a hard copy there). My personal website is pretty basic.
What is your average day as editor/writer:
Because Thrice is an indie, and we have yet to qualify for grants; it is strictly a labor of love right now. So, I have a straight job that pays the bills. I write every day in some fashion, and always have a project going. For the magazine, I go by deadlines and concentrate down on that when they loom.
Tell us about your career:
I started out in Marjorie Peters' Southside Writers Workshop in the 70's and attended Columbia Chicago. It wasn't until the late 80's that I finally got something in print. My own writing is surrealist, so it has few outlets. I've been grateful to find like-minded venues over the years. The alt-zine scene of the late 80's/early 90's saw a lot of alternative indies all over the country. I took over The Fiction Review in 1990 but only had the support for three issues. There was a lull in the "career" while I raised a family and concentrated on my family and daughters, but I picked it up again when they got older. There's been more editing than writing but just recently I got some things out there, so the writing side is back in the game, too. My friend David Simmer and I started Thrice in 2011 and we have published almost a couple dozen issues of the magazine. Last year, we began publishing some stand-alone titles. I don't know how far we go with that without some backup money for promo, but we are a 501(C)3 and have a small stream of tax deductible donations. We'll see.
What goals would you like to reach in 5 years?
I have a novel in the works, and I want to see a surrealist novel out there. It would be great if it was mine, but that's a tall order. The Big 5 publishers are abject cowards and the indies are small and limited. I believe surrealism is a legitimate form, but it's not very commercial. I'm resigned to that and can accept the notion that the work is the thing. I'm cool with that. But it's got to see the light of day somehow to start to build legitimacy. I'm not going to use my own publishing house to put it out, though, because that is just squirrelly. So it's out there and will make the rounds like everybody else. It would be a big win.
Thrice is putting out a collection of the works of Lorri Jackson, which is a special project of mine. Lorri died in 1990 and from all we can gather, she sent her last submission to The Fiction Review on the very day she died. It was heroin at the cause. I'd never met her, but it was something you don't often forget. She was big news in Chicago then and about to go national as a post-punk poet. Her sister contacted me years later and we worked on a collection for a long time. Thrice is putting out what we call "So What If It's True" soon. I did the editing and wrote the intro. If I do nothing else, it's a big moment for me. We're not talking a best-seller with international acclaim or anything. But it'll be out there, so we'll see what happens with that over the next 5 years.
I'd also like to get some grants for Thrice and just keep going. There are voices out there as good as anybody, but with the way it is in publishing these days, the big companies don't support "borderline" work and have the heavyweight writers keep the money coming in like they used to. Now it's almost like everything has to have a bottom line. It wasn't always like this. The big publishing houses always took chances with writers because they could. I guess they can't now. Or won't. So all the small independents have to pick it up. There are so many good writers out there, and one goal is to join in that effort and stay with it.
Which recognitions/achievements have provided the most encouragement?
I don't care about this. I write because it's a disease. If nothing ever saw the light of day, I'd still write.
For Thrice, though, the biggest thing is that we've been contacted by agents who wanted to be introduced to some of our contributors. That's huge. I love that. That's a recognition/achievement I can enjoy.
What writers/classes have influenced you?
My influences are varied and widespread. Though my genre, I guess, may not match with them, I have always enjoyed Hemingway and Marquez. Naguib Mahfouz is an idol of mine, as is Robert Walser. But the things that really get me are the people known as "outsider artists." I'm fascinated by the likes of Henry Darger and The Philadelphia Wireman. From the alternative world, I get energy off of John M. Bennett and Blaster Al Ackerman. You can throw the traditional surrealists and Dadaists in there, too.
What advice would you give readers?
I don't have any really.
What's your favorite quotation?
"Stay true to the dreams of thy youth" — Herman Melville