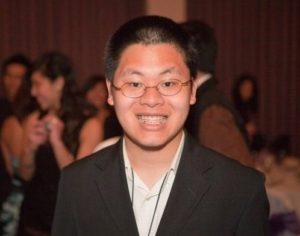 Alex Andy Phuong earned his Bachelor of Arts in English from California State University—Los Angeles in 2015 while also serving as an editor for Statement Magazine.
What were your duties as editor for Statement Magazine?
 Statement Magazine is the literary magazine that has been part of California State University—Los Angeles since 1950. As an editor, my job was to read over a hundred creative pieces that consisted of poetry, fiction, nonfiction, and hybrid forms. We did not exactly categorize the writing, though, because the staff wanted to celebrate the creative writing talents of the entire university. The editors also had the judge each written piece to assess whether or not the writing is of a professional and literary quality.  Other staff members also judged artwork based on photographs that artists submitted, and then the entire staff celebrates the production of the magazine at an elaborate launch party during the spring academic term.
Which writers influenced you the most?
My biggest inspiration was Jane Austen. I discovered Sense and Sensibility on my aunt's bookshelf in 2006, and then read all six of Austen's novels over the next two years. I also saw the film Becoming Jane in August 2007, and became fascinated with Anne Hathaway's portrayal of the famed writer.
I have also been influenced by Victor Hugo, and saw a production of Les Misérables at the Ahmanson Theater in 2011.  I have also been a Francophile ever since I took four years of French when I was in high school.  I guess my greatest influences were European writers!
What classes helped you the most?
My "Writing in the Major" course at Cal State L.A. and my Senior Seminar that focused on "Music and Literature" helped me the most.  Dr. Ramey instructed both of these classes, and her collaborative nature allowed me to write creatively and productively.  My blog from my "Music and Literature" class is still online.  This is the link. Dr. Ramey also served as the faculty advisor for Statement Magazine, and I owe her nothing but gratitude for enriching my experiences as a Cal State L.A. student.
What genre do you feel is your strongest: poetry, fiction, nonfiction?
I believe that nonfiction is my strongest genre because I love writing stories based on my life experiences.  I took a Creative Nonfiction course at Pasadena City College with Professor Kottaras, and that class helped me realize that my own life is like a beautiful narrative.  Sometimes I try to write poetry and fiction, but I would not consider myself to be as great as famed writers like Emily Dickinson and Mark Twain.  Nevertheless, I still enjoy writing in any genre.  (It is just that I prefer nonfiction.)
What are some of your publication credits?
My publication credits include articles for "The Culture Trip," a short story entitled "Kate Winslet" published in Barking Sycamores, my review of Carol Smallwood's In Hubble's Shadow published on The Society of Classical Poets, and numerous film reviews on MovieBoozer.
What made you turn to English as your major in college?
I had really influential English teachers in middle school and high school.  To be honest, I hardly read when I was a child.  It was not until I read Anne Frank's The Diary of a Young Girl that I became fascinated with books.  I took English Honors and Advanced Placement English classes all four years of high school, and my high school English teachers really prepared me to meet the demands of college English courses.  I can honestly say that I would not be where I am today if I had never met all of the wonderful English instructors that I had between eighth grade and completing my Bachelor of Arts degree.  Thank you all!
What writing projects are you working on now?
I currently write articles on EvoNews and write film reviews for MovieBoozer.  I have also been entering writing competitions to practice my writing abilities.
What would you like to see you have accomplished as a writer 5 years from now? In 10 years?
5 years from now, I hope to complete at least a hundred film reviews for MovieBoozer.  (I actually have around forty online as of June 2017.)  My goal is to also write articles continuously for EvoNews. 10 years from now, I hope to see my writing in print books.  I would never want to write a novel, though, because I am not exactly the best fiction writer.  Instead, I simply mean that I hope to see my writing printed in anthologies, magazines, and bound publications.
What advice could you give writers just starting out?
I would tell those writers to keep dreaming and to pursue their passions.  I learned from a wisdom book that, "The ultimate form of failure is the failure to try."  That is what I tell myself whenever I see a writing opportunity…"at least try!"
My last piece of advice is this fact I learned while editing Statement Magazine: There is no such thing as a perfect piece of writing.  Everyone is entitled to their own opinions when it comes to readers judging written work.  Even with that challenge, it still would not hurt to try to submit writing because something that a writer would consider mediocre might be beautiful in the eyes of a publisher.  I would also encourage all writers (and any creative person) to listen to the song "Audition (The Fools Who Dream)" from La La Land.  Dream on until your dreams come true, and here's to the fools who dream!