Interview w/ Christine Swanberg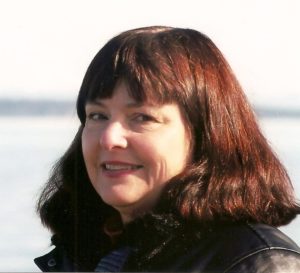 A leading American poet and a multiple Pushcart nominee (with awards from Midwest Poetry Review, Peninsula Pulse, Poetswest, Womanspace, and others), Midwest writer Christine Swanberg just had her ninth poetry collection, Wild Fruition: Sonnets, Spells, and Other Incantations, published. A college and high school teacher, she is a featured national reader and workshop leader; her work has appeared in hundreds of anthologies and journals.
Your collection of 75 poems is grouped into five parts, each preceded with a color or b/w photo. How long did it take to complete? Was it more challenging than your previous collection, The Alleluia Tree?
It has been five years since my last collection. I experimented with sonnets and shaping free verse. Part of my process is placing the poems in journals before publishing them as a collection because I want them to have wide a readership; it makes the collection more professional and more publishable. The collection morphed into a cohesive manuscript when working with David Gecic, of Puddin'head Press. David believes in incorporating his favorite poems into books he publishes. Eventually, we could see certain poems that lent themselves to themes in the collection. I try to group poems in a way that leads the reader on a little journey. David prefers shaking things up, so between the two of us, the five sections emerged. David also enjoys my husband's photography, so a bonus incorporating them. Proofreading process took a long time, working with a digital and new printer. The process is not for the faint of heart and requires perseverance for any book.
In "Lately Writing Sonnets," you describe sonnets as "Compact, composed and with a quiet voice . . ." What were the steps you took to master the ability to write them?
The big challenge—making sonnets work seamlessly. A sonnet is 10 syllables per line, iambic pentameter. A modern sonnet might not enforce strict iambic pentameter but opt for a more natural flow of words. I adhere to the 10 syllables, rhyme every other line, and end with a rhymed couplet. The sonnet is 14 lines long.
The sonnet lends itself to nature poems, praise poems, lighter or humorous poems. It is not an indulgent form, so it is limiting in expression. The poet needs to let the ending epiphany evolve naturally and not force it. I first wrote sonnets in the 80s, when I taught high school creative writing and I tried "An English Teacher's Sonnet." The National Council of Teachers of English published it and used it for a promotional postcard. I am not sure that I have mastered the sonnet, but I enjoy playing with the form and find it fun and satisfying.
When did your deep appreciation for nature begin and how has living in the Midwest influenced your work?
Recently, my mother gave me a photo taken when I was probably four years old—a butterfly on my little hand, which I am staring at in awe. I lived without siblings or playmates for the first four years of my life on Wisconsin lake. I think I always embraced nature. I had a spiritual epiphany in the Rocky Mountains as a teenager. I had a horse here in the Midwest and learned all about the plants and creatures along roadsides, in meadows, and by the river during that time. Gardening has become more than a hobby but a mystical way of life, a "return to the garden."  My garden is a sanctuary for birds and butterflies. The cover of the new book is a garden shot. The Midwest is gorgeous in summer. I do a lot of writing about winter, probably I'm stuck inside with time on my hands.
I especially appreciated your observation in "Secret Shaman"
You don't need to travel
half way around the world
to meet the guru of your dreams
when the secret shaman within
already whispers your name.
How long did it take to come to this conclusion?
The words "secret shaman" came to me in the garden so I thought about doing a little series on them. Those words have a synchronistic evolution. In Christian terms, it's the kingdom of heaven being within you. In mystical terms, shamans are one with nature and are able to decode spiritual messages from creation. They can be healers and discerners. The poem lead to the epiphany that within us is that shaman, and that latching on to the spiritual energies of great teachers may help but ultimately it is within.
What other kinds of formal poetry have you done besides the sonnet? What other types would you still like to do?
I haven't done much other formal poetry and they are not on my bucket list. I am awful with step by step procedures, so while I admire those who write in tight forms, it's probably beyond me. The sonnet doesn't require repetition and can be spontaneous without having to think about repeating lines.
Some of your sonnets appear in groups of three. What are the special challenges in doing the triptych?
Sustaining the energy and focus is a big challenge. The surprise was that the triptych lent itself to litany and lines that required passion when reading them aloud. Two of them were nominated for Pushcart awards: "Ask the Gardener," and "What Sedona Says." That tells me that the hard work put into sustaining the form and passion was noticed. I had to get out the way and let the form take the content to a new place. In that way, the sonnet also enhances originality and creativity.
Do you have an idea for your next poetry collection? What other kinds of writing have you had published?
Perhaps travel poems with photos by Jeff, my husband. When we were young, we were avid adventurists who traveled all over the world. The challenge will be to write poems that are not just description but dig into the heart of place.
Do you have some suggestions for readers who've struggled with writing lines in meter? Suggestions for successfully using rhyme?
I don't write in strictest meter so my suggestion is cavalier: don't worry about it too much. Avoid too many end rhymes at the end of sentence. You can wrap a sonnet line so that the sentence itself doesn't end at the end of the line.
Few leading poets are also successful in radio and other public presentations besides teaching in public schools and colleges, doing residencies, and being recognized for outstanding community work. Please share how you succeeded in so many different areas:
Writing grew out of teaching, so I was used to getting up in front of people. Working in public relations for a small college taught me the value of networking. I believe a poem needs the completion of a good reading. I strive to make the reading meaningful to the audience. I reach for my dream opportunities such as teaching or giving readings in beautiful places. I give back to the community by serving on editorial boards or mentoring others.