A Love Affair Lost to Time: A Review of 'White Houses' by Amy Bloom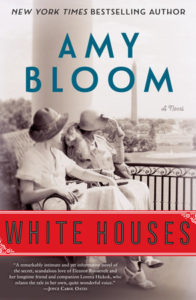 Amy Bloom's latest novel, White Houses, is a work of historical fiction that recreates the love affair between Eleanor Roosevelt and journalist Lorena Hickok. The novel is told from Lorena's perspective and spans decades, encompassing everything from her abusive childhood in South Dakota to her time spent living in the White House (and ultimately finds her in her elderly years). Lorena makes a witty, charismatic narrator, and her relationship with Eleanor seems built on a mutual respect for each other's strength. As a result, White Houses is a charming and tender depiction of middle-aged love, and Bloom captures the gamut of emotions—everything from rapture to pain—that accompanies growing older with someone.  
Lorena's childhood in South Dakota informs facets of her relationship with Eleanor, and this section proves to be one of the most moving and vivid parts of the novel. Lorena's family is in extreme poverty and Lorena endures sexual abuse and horrible work conditions before she successfully escapes her father's clutches. It's in this heart-wrenching section that Bloom plants seeds for what later becomes an interesting aspect of Lorena's relationship with Eleanor, which is her need to negotiate the class differences between her and her lover. The majority of the novel features Lorena enmeshed in a lifestyle vastly different from the one she knew, and her quiet resentment of the Roosevelt's wealth and power assumes a fascinating undercurrent of the story. In a particularly moving scene, Lorena notes that although she and Eleanor both lost their mothers, the term "orphan" looked markedly different on each of them. Lorena is at once part of Eleanor's world and separated from it, a circumstance that takes a toll on their relationship as time goes on.
Even with this tinge of envy and resentment, Lorena's reverence for her partner never truly wavers; thus, Bloom's resistance to simple character dynamics makes this book a joyful read. The love at the center of the novel, and the relationships on its periphery, are wonderfully complex and ever-evolving. The Roosevelts are depicted as a family grappling with their secrets, and Eleanor's marriage is comprised of a complicated web of infidelities and unspoken understandings, with genuine affection between spouses remaining regardless of their indiscretions. Some of the most electric scenes in White Houses are, somewhat surprisingly, the scenes between Lorena and FDR. They vacillate between comradery and rivalry, and it's never certain where each stand.
My favorite passages, though, are the ones detailing small intimacies between the women at the core of the tale. At a certain point, the story shifts into being about a relationship that sees its partners grow old and apart. With this book, Bloom has crafted a narrative that captures the affection and pain of a love that has been worn in and tested to its limits. Ultimately, White Houses shows that love can change shape but still survive, even if the romantic relationship from which it sprung cannot.