Interview w/ Rebecca Resinski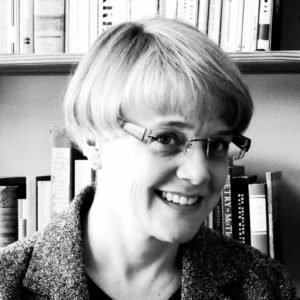 Rebecca Resinski is one of the founding editors of Heron Tree, an online poetry journal.  She also designs and produces hand-bound chapbooks and pamphlets under the imprint Cuckoo Grey.  A professor of Classics at Hendrix College, she lives in Conway, Arkansas.
Please describe Heron Tree and your duties as editor:
Heron Tree is a poetry journal founded in 2012 and online at herontree.com.  We aim to publish a poem weekly, and all of each year's poems are also collected in a volume.  I read and weigh in on all of the submissions, as do the other editors, and in addition I prepare the accepted poems for publication on the website.  Formatting the poems for publication is an especial pleasure because it gives me a chance to inhabit them, to notice and appreciate every word and line break.
When I read poems for Heron Tree I'm looking for poems which convey a strong sense of being situated—whether that's in a particular moment, emotion, or place (actual, imagined, or even surreal).  Heron Tree poems tend to provide their own grounding.  And I think they also use language in distinctive yet clear ways:  each poem's language becomes its own special kind of air.
Tell us about your career:
I am a professor of Classics at Hendrix College, where I teach courses in Latin, Greek, ancient literature, and modern adaptations of ancient texts.  My academic research focuses on the uses of Classics in the novels of Anthony Trollope and on the reception of Classical mythology in children's literature.  But my partner, Chris Campolo, and I talked for years about becoming publishers of poetry, something we both love, and in 2012 we decided to take the plunge by founding Heron Tree Press.  While Heron Tree is a primarily electronic publication, I am also interested in the physicality of traditional print media and how the material form of a text can reinforce and reflect its content.  I experiment with that dynamic in the chapbooks and pamphlets that I create for Cuckoo Grey.
Which recognitions and achievements have encouraged you the most?
I am encouraged every time someone tells me that they have enjoyed or been moved by a poem we've published!  I know that poets love to hear that their words are read—editors are also grateful to hear that the work they've helped to spread has truly reached someone, has become part of their experience, has mattered. 
What writers have influenced you the most?
The works of Ovid, H.D., Frank Bidart, and Angela Carter have all taught me different ways of seeing and noticing language, stretching my imagination and empathy.  Most recently New Exercises by Franck André Jamme, translated by Charles Borkhuis, has pushed me to think about new ways to read, and that's been an exciting experience.
How has the internet benefited you?
Like many small press publications, Heron Tree wouldn't be possible without the Internet.  Not only do we publish online but we also spread the word about Heron Tree through email and social media.  The Internet has opened up exciting opportunities and platforms for publication and for connection.
What classes have helped you the most?
When I was younger, I thought that being a fast reader was part of being a good reader.  The classes I took while learning Latin and ancient Greek taught me the joys of reading slowly, of attending to individual words and how they work together.  There's a magic in slow reading that I might never have discovered if I hadn't had to spend an hour translating a single paragraph or a poem, analyzing form and syntax and seeing how meanings emerge.
What advice would you give others?
I think there's an ongoing temptation to focus on external validation of one's work, whatever that work may be.  Of course the recognition of other people can be heartening—see my answer to question 3 above!  But I think that we all need to remind ourselves occasionally that what's external can't substitute for what's internal:  we need to trust our own compass, to be satisfied with our work for its own sake and believe in it.  Sometimes that means taking extra efforts to tune out the static created by a cultural obsession with celebrity and recognition.
What is your favorite quotation?
"This thing that she was doing required an infinite amount of pluck,—of that sort of hardihood which we may not quite call courage, but which in a world well provided with policemen is infinitely more useful than courage."
– Anthony Trollope, The American Senator