Punk Rock Romance: A Review of 'Henry & Glenn Forever & Ever: The Completely Ridiculous Edition'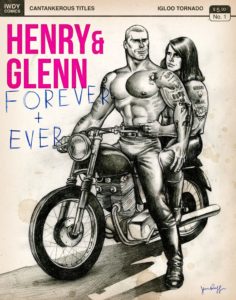 As the vocalists of Black Flag and The Misfits (among many other projects), Henry Rollins and Glenn Danzig, respectively, are widely considered two of the most outspoken, manic, and/or hypermasculine figures in punk/hard rock and metal. Of course, Rollins has also established himself as an impassioned and intellectual socio-political author, actor, and radio host, but his original persona still follows him somewhat. As for Danzig, his fascinations with horror, eroticism, and the occult/theology—joined with his often-chronicled imbalanced behavior—have made him quite the interesting character.
It makes wonderfully twisted sense, then, that they'd be turned into an off-the-wall domesticated couple in Henry & Glenn Forever & Ever, an underground comic series by Tom Neely and his Igloo Tornado troupe that ran for the past decade or so. Luckily, those who missed its initial run (including myself) will find the newly released Completely Ridiculous Edition (which collects "all of the comics, jokes, artwork, and stories that have made a cult-hit phenomenon out of the dumbest idea that ever fell out of a beer bottle") to be delightfully bizarre. Filled with incredibly diverse artistic styles, subtle insider humor, plentiful madcap misadventures, and—oddly enough—a strong romanticism beneath it all, Henry & Glenn Forever & Ever: The Completely Ridiculous Edition is a fun and imaginative satire not only of its namesake duo, but of culturally defined gender roles and the aforementioned genres as well.
First and foremost, the comic avoids an all-too-easy potential to be homophobic by doing two important things: humanizing Rollins and Danzig as surprisingly realistic and loving partners, and making fun of how aggressive, sexualized, and fantastical these musical types (which are typically associated with in-your-face heterosexual males) can be. Obviously, the twosome gets into some crazy situations (more on that later), but there's always an underlined hint that they feel true devotion and care for each other. (In fact, the pieces often evoke the kind of dedication Keith and David had on Six Feet Under). Likewise, while the pair does engage in stereotypical acts of BDSM, it's used mostly as dry commentary on the blend of homoeroticism and machismo that frequently—but not absolutely—comes with goth and metal culture. In fact, Rob Halford of Judas Priest (who confounded fans when he, a leather-clad metal vocalist adorned with studs, chains, and the like, came out in 1998 and has since stood as a symbiosis of these seemingly divergent things) wrote the foreword.

As for the plots themselves, they're quite varied and usually strike a fine balance between the authentic and the absurd. For instance, opener "Buried Secrets" finds Rollins digging up Danzig's overly affectionate and critical mother (whom Danzig buried in their front lawn). From there, he runs away from home, envisions himself as a superhero conquering a maternal monster, and eventually reconciles with her thanks to Rollins' mature mediation and concern. It's precisely this blend of hilarious immaturity and believable connections that make the collection simultaneously endearing and preposterous. Other tales, like "Henry & Glenn for Five More Minutes!" (in which they attend therapy) and "Same Time, Next Year" (a past, present, and future exploration of their bond) achieve a similar feat.  At one point, they even get competitive about their real-life film careers (or lack thereof), as do many actual actor couples.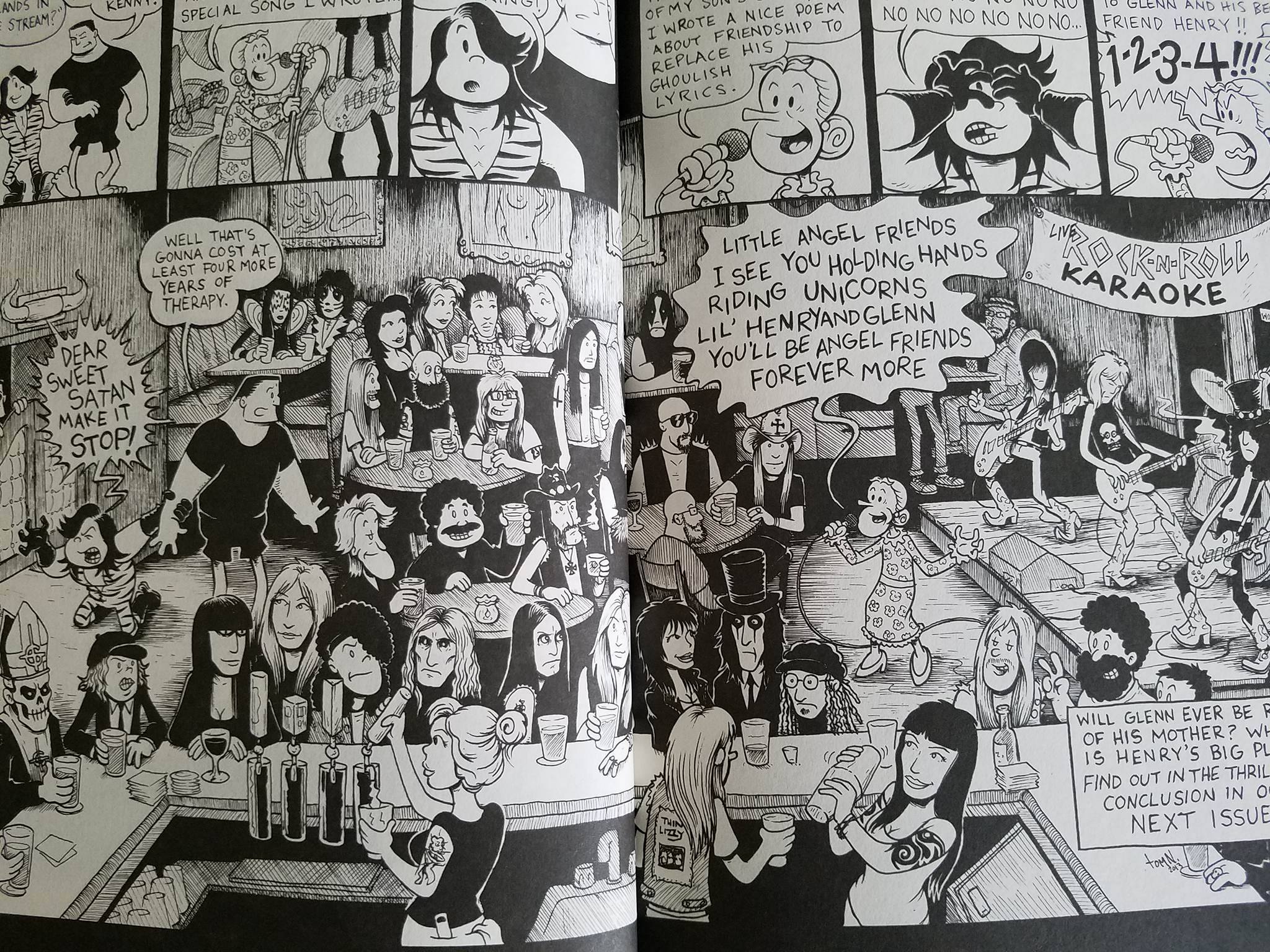 Outside of the titular characters, several other figureheads receive the Igloo Tornado treatment. Primarily, Hall & Oates (who are the antithesis of heavy music, even though Daryl Hall did record Sacred Songs with King Crimson mastermind Robert Fripp) pop up as Satanist neighbors throughout the sequence. Elsewhere, verbal and/or visual nods to Metallica, Doyle Wolfgang von Frankenstein, Lita Ford, Lemmy, Gaahl, Ghost, KISS, Devo, and many more feel like a MAD collage or Where's Waldo? seek-and-find of players and singers. It's a treasurable extra layer to the creation that rewards readers who get the references without excluding those who don't (since there's still so much to enjoy anyway).
Perhaps the greatest part of Henry & Glenn Forever & Ever: The Completely Ridiculous Edition, though, is its incredible range of artistic styles that add to the astounding diversity and creativity at hand. Sure, these hijinks are pleasantly silly enough, but they're enhanced when encased within the guises of Hellboy, Dennis the Menace, Tales from the Crypt, and dozens of other looks. Honestly, almost every piece is presented differently, which makes the book immensely intriguing on an aesthetic level alone. (The colorized bonus clips in-between the black and white features are a nice touch, too.)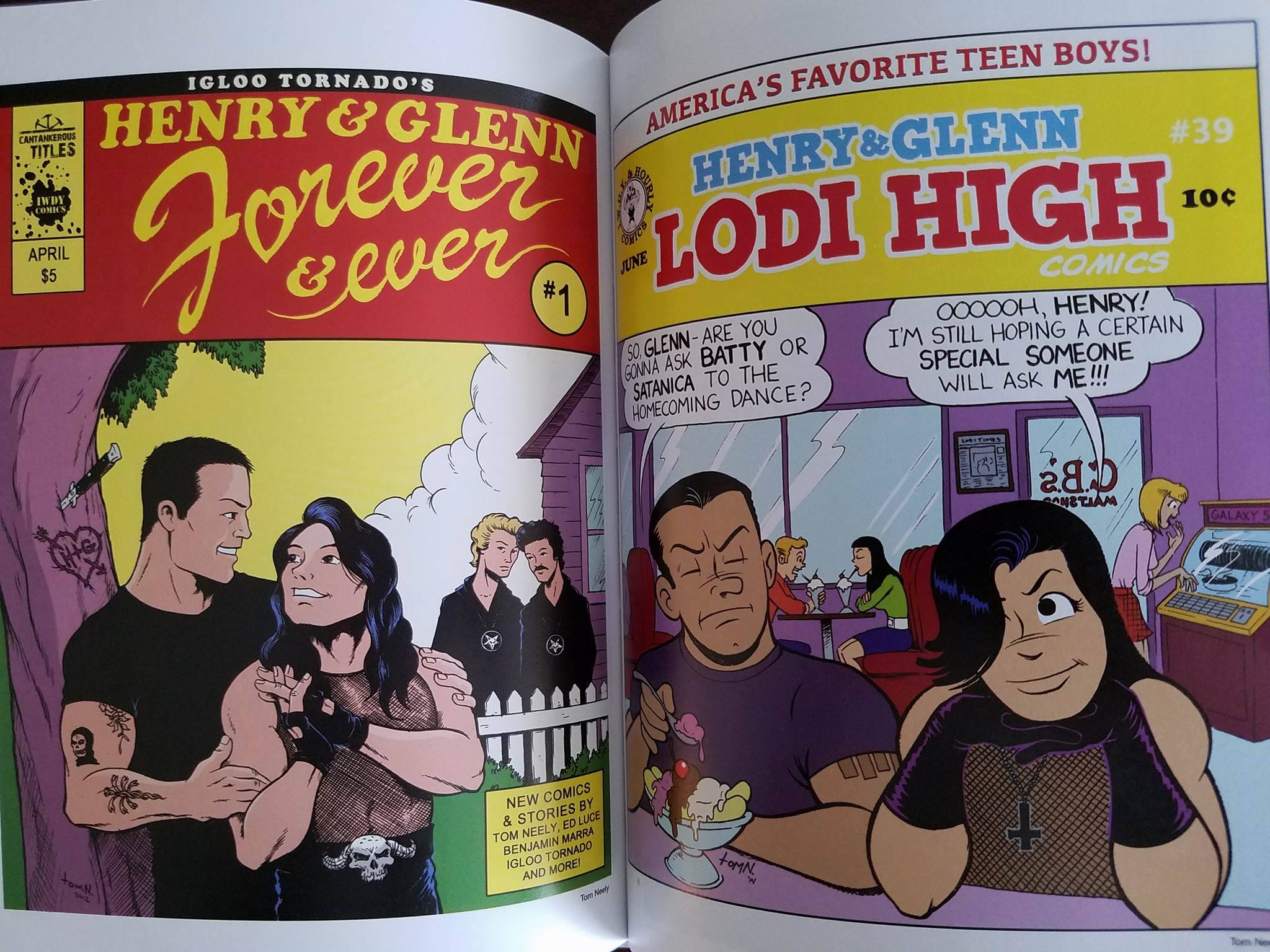 In a 2017 afterword included near the end of the set, Neely explains "the ACTUAL story of how" Henry & Glenn Forever & Ever went from "bar-napkin doodles between four friends" to a celebrated parody of people, music, and culture. Like many other comedies, such as Rick & Morty, South Park, Family Guy, Walk Hard, and everything Monty Python has done, it may seem very whacky on the surface—and it is, don't get me wrong—but there's also a ton of wit and commentary underneath it all. In addition, it exemplifies the notion that imitation (or in this case, mockery) is the sincerest form of flattery because Neely and company clearly have a lot of respect and love for everything they make fun of. As such, it's a must-read for adult fans of comics, punk and metal music, and/or sharp humor.