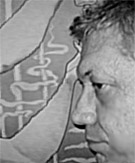 RW Spryszak is Editor-at-Large at Thrice Publishing and managing editor of Thrice Fiction, both of which are based out of the Chicago area. Thrice Fiction is published three times a year, and Thrice also publishes up to two novels a year. He has been published in Slipstream, The Lost and Found Times, Peculiar Mormyrid, and a host of other alternative magazines since the 1980s. He was editor of The Fiction Review in 1990-1991.
Please describe your website/social media:
I am trying to adapt my old-school notions to the modern era. The magazine website offers free copies for every issue (or you can buy a hard copy there). My personal website is pretty basic.
What is your average day as editor/writer:
Because Thrice is an indie, and we have yet to qualify for grants; it is strictly a labor of love right now. So, I have a straight job that pays the bills. I write every day in some fashion, and always have a project going. For the magazine, I go by deadlines and concentrate down on that when they loom.
Tell us about your career:
I started out in Marjorie Peters' Southside Writers Workshop in the 70's and attended Columbia Chicago.…

...continue reading